Los Osos Fence Installer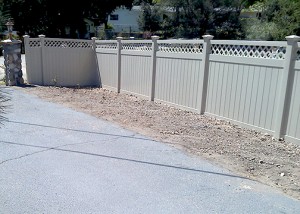 Coast Fence is a licensed fence contractor in Los Osos here to serve your needs. Good fences serve many purposes on a property and can add visual appeal and value to a home. A fence can effectively delineate property borders, serve as a safety barrier and keep pets and children from wandering into the street.
According to Zillow, an online real estate database, erecting a fence on a property in an area where fences are common usually increases the value of the home, putting it in line with similar properties nearby. However, this may only be the case if the fence is installed professionally and matches other fences throughout the neighborhood.
To get started on your projects, check with a professional fence installer in Los Osos like Coast Fence. Depending on the local regulations, fences may need permits to be installed and require certain number of inches or feet within the property line. With the help of the San Luis Obispo County building code office we are able to guide you further as to what is legal and possible. Reputable fencing companies that work in Los Osos, like Coast Fence, have a good understanding of fencing regulations.
A permit is typically needed to install a fence, but not always. It is best to follow the law so that the fence can be installed in a manner that is consistent with local regulations and will not be subject to potentially costly removal.
About Coast Fence, a Los Osos Fencing Contractor
Coast Fence is a reliable full-service fence company on the Central Coast. Owner Mike Piwowarski has been in the business since 1998 and is one of the most experienced commercial and residential fence contractors in San Luis Obispo County. He will help you create your dream fence. Are you looking for a fence contractor in Los Osos? He specializes in a broad range of fence styles from chain link to wood, vinyl and everything in between.
Services include:
Residential fence install and repair
Commercial fence install and repair
Gate install and maintenance
About Los Osos
Los Osos is scenic community on the coast of San Luis Obispo County. There is a small business district concentrated in just a few blocks along Los Osos Valley Road, and several shops servicing the Baywood section of Los Osos, near the bay. The rest of the town is almost entirely residential and built on sandy soil. The population is about 16,000 people.